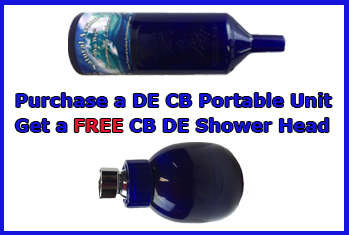 Cobalt Combo Special: Purchase a Cobalt Blue DE Portable and Receive a Free Cobalt Blue DE Shower Head
Rating: Not Rated Yet
A total savings of $249!
Description
The DE Portable - Now Available in Cobalt Blue!
The Dynamically Enhanced Natural Action Portable Structured Water Unit is for the person who wants the full effects of dynamically enhanced structured water wherever they go. The line of Dynamically Enhanced Units have a flow-form inside that is the same structure and size as the flow-form in the current units, but is made from a combination of proprietary materials that dynamically enhance the energy of the unit and create a static energy that exists even before the water flowing through the unit is structured (Learn More).

The Natural Action Portable Structured Water Unit has a built in funnel and serves as a portable unit. It is for a person on the move who wants to be able to have balanced water wherever she or he goes and someone who is renting and does not want to permanently install a unit in the home. Structured water is most effective when consumed as close to its source as possible. Structured water has memory and will incorporate the vibration of its immediate surroundings. Although it can be stored in five gallon containers for dispensing at a water unit, it tastes and feels best immediately after it is processed by the Structured Water Unit. The Portable Unit meets all these needs. Keep in mind this is structured water which has memory so there might be slight changes in its effectiveness if it is stored for a bit of time or is stored in a plastic jug.
The Cobalt Blue DE Shower Head
Imagine showering under a warm waterfall of enlivened, life benefiting, droplets of water. With a Natural Action Technologies' Cobalt Blue Shower head, you will be getting the same healthy benefits every time you take a shower.Natural Action Technologies' Structured Water flow-form maximizes the action of a mounain stream creating what is referred to in nature, as a double vortex. Meaning, that when you drink a glass of water, or you bath or shower in water that has flowed through Natural Action Technologies' Structured Water products, you are getting the same energetic, life-enhancing properties, you would find in nature's water.
Simply twist off your existing shower head, install one of Natural Action Technologies' Cobalt Blue Shower heads.
Soft healthy skin and hair

More moisture for skin and hair

Eliminates itchy skin from chlorinated water

No hard water build-up in shower

Assists in improving any skin conditions

All memory held in water is wiped clean

Water that is alive and full of energy

Greater sense of well being
This New Shower Head Product can be used in conjunction with the Mini Shower (or Super Shower) products to add even more Bio-Photonic Energy to your Shower experience. Simply position your Cobalt Blue head back on to your Mini Shower product (or Super Shower). It's fast and easy!